Why is Productivity Monitoring Important in the Workplace?
There is no escape from distractions that hinder employee productivity. According to a study by the American Society of Employers, businesses lose around 20% of every single dollar earned due to lack of productivity or employee time theft. Whether intentional or unintentional, employees tend to indulge in un-productive activities when they should actually be working. The below are to name a few;
Late login and early logout
Taking long breaks
Checking email/social media during work hours
Visiting recreational websites
Office chit-chat and so on
If you add up all these hours for weeks and months together, you will be surprised to know the total hours of lost productivity. Implementing productivity monitoring software like Handdy is so far the best solution to combat employee time theft and improve employee productivity. Let's find out how?
How productivity monitoring software helps improve employee performance?
Productivity monitoring software Handdy goes beyond the traditional functionality of merely tracking clock-ins, clock-outs or break timings. Handdy software comes with productivity monitoring features giving you the ability to track your employee work pattern in different levels. Designed to manage small to medium to large scale workforce, Handdy can track and record employee;
Attendance
Clock-in and clock-out
Total work time and break time
Total active time and idle time
Website visited (URLs with time spent on each website)
Applications used, including documents (time spent on each application)
Keystroke logging and screen shots with time stamp
Get historical data and reports
Productivity analysis chart
And more….
An infographic representation of what Handdy can do for you: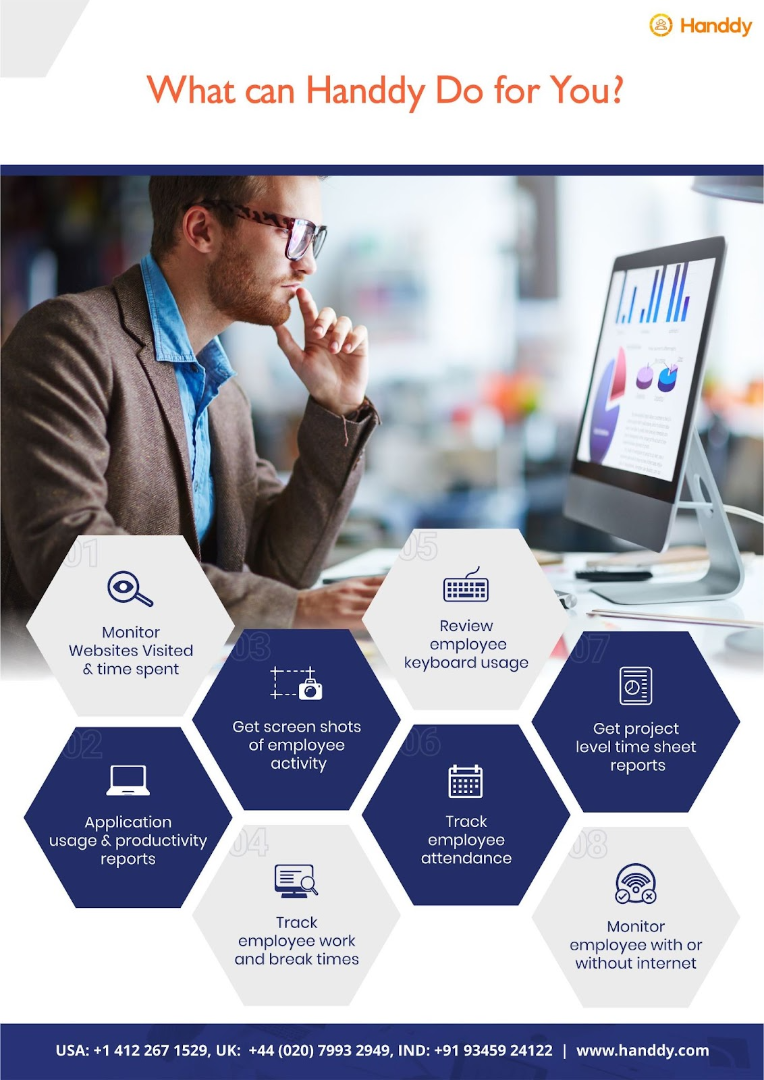 Handdy – an ideal choice to monitor your employee productivity?
Tried and tested in-house and by our clients – Handdy employee monitoring and productivity software is an ideal choice for businesses looking for one software that helps them;
Track employee time
Monitor employee computer activity
Track and analyse employee productivity
Track employee time and attendance
Deliver reports with real-time data
Manage through a centralized dashboard
And so on…
If you are looking for an ideal solution that lets you track and monitor your employee productivity, time and computer activity – Handdy comes in as a good fit. Schedule your free demo today and one of our experts can walk you through the features of Handdy.
Make use of
Your FREE Demo
Stop wasting time on trying out different employee monitoring tools. Find out how you can utilize Handdy to manage your employees.
Book Your Free Demo Here
We're here to help
Would you like a free personalised demo to learn how you can use Handdy at your company?
Book your free demo now