Handdy | Best Employee Monitoring Solution for Software Development Industry
The software development industry is volatile and requires constant efforts to stay atop the rising competition. The industry itself is influenced by various factors such as its ever-changing technology trends, high client expectations/outcomes, limited infrastructure and economic crisis.
Apart from these, there are a few other challenges encountered on a daily basis; that has to be addressed immediately in order to:
Avoid costly mistakes
Successful project delivery
Achieve optimal productivity within software development teams
Improve employees focus and motivate them to deliver result a team
Let's take a quick look at what these common challenges are and how technology in the form of employee monitoring software can address them effectively.
Most Common Challenges Faced by Software development Industry:
Time limitations
Lack of skilled resources
Difficulty in managing globally distributed teams
Ineffective project management
Quality assurance and security
Overcome productivity challenges using employee monitoring software:
Handdy employee monitoring and productivity software lets you streamline the overall process and create a better workflow for your software development teams. Here's what Handdy can help you achieve.
Also Read: Facing employee productivity challenges - Can employee monitoring software be your answer?
Monitor employee computer activity and overcome time limit exceeds:
When logged in to Handdy employee monitoring and productivity software, the desktop timer starts tracking your employee computer activity - right from the moment they are logged in to the moment they logout. Monitoring employee computer activity lets you analyze their behavior during work hours. You get to see their productive, unproductive and neutral hours.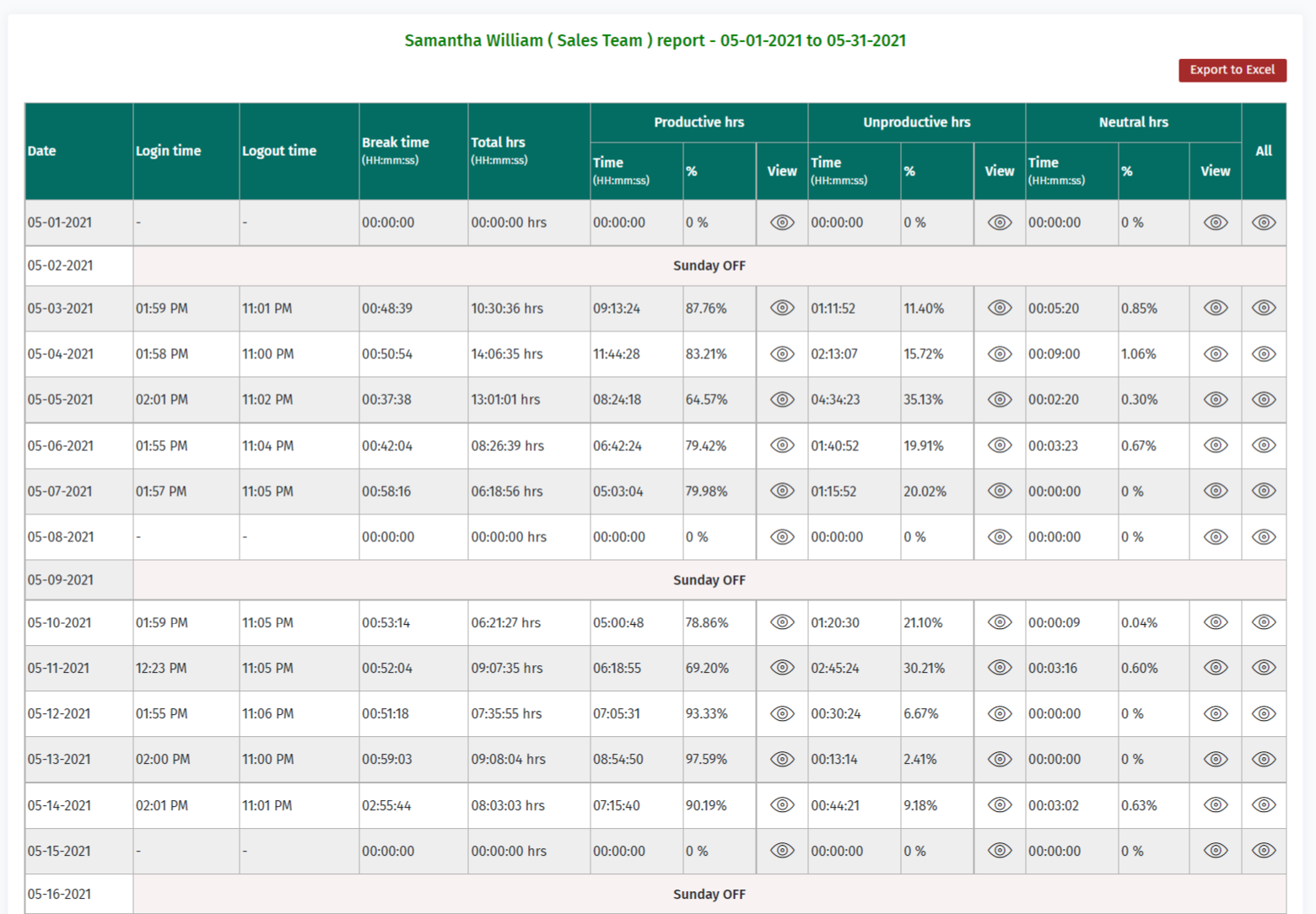 Benefits:
Analyze how your employees spend their time during work hours
Find out their break or idle hours is high compared to their productive hours
Analyze what cause an increase in idle/break hours and help your employees overcome them
Get on a one-on-one session and educate your employees on productivity and how their contribution is important for the overall team performance
Work on ways to help you teams stay productive during work hours
Find productive/unproductive/neutral hours for the day, week and month
Eliminate workplace distraction:
Studies show that software developers spend around 22% of their time in code maintenance and around 39% of their time in writing new code or improving the existing one. As it gets monotonous, they might start losing focus and turn towards social media or catch up on web series - and continue for long hours unaware. Of course, there is no harm in taking a short break when they feel like it, but continuing long on social media or other un-productive websites is harmful for business.
Using Handdy employee monitoring and productivity software, you check the websites visited or applications used with duration.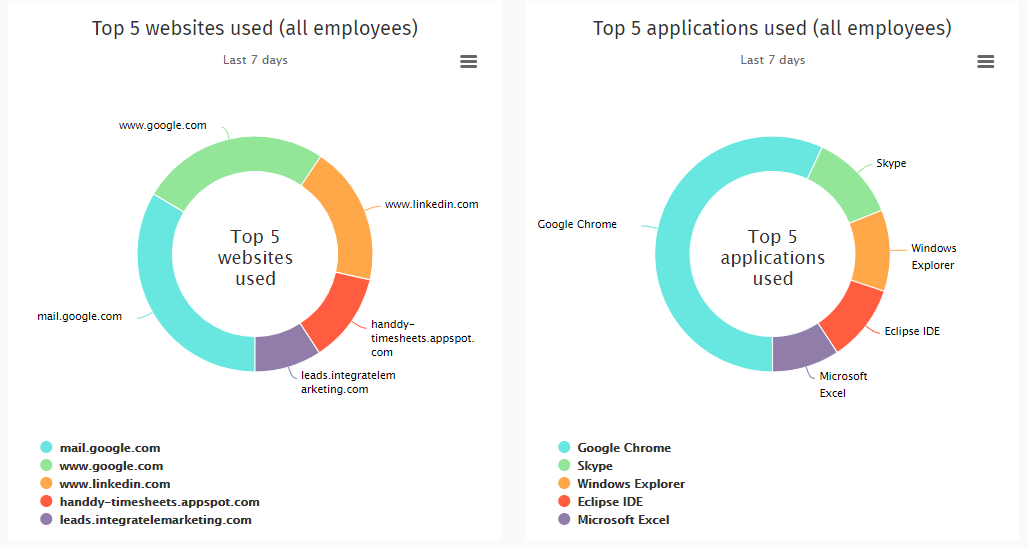 Benefits:
Analyze websites visited and applications used and for how long they've been using it
Restrict access to the un-productive websites/applications that causes distraction
Get on one-on-one session and educate your employees on staying focused and being productive during work hours
Work on ways to de-stress and re-energize your employees
Encourage your employees to take short breaks to improve focus and attention
Address skills shortage effectively:
Successful project delivery depends on how individual developers (employees) perform. Handdy gives you a list of top performing employees, so you can easily spot underperformers and work on corrective measures if required. You can arrange for additional training sessions or on-board new developers depending on how crucial your project is. Below is an image from Handdy showing employee names based on performance: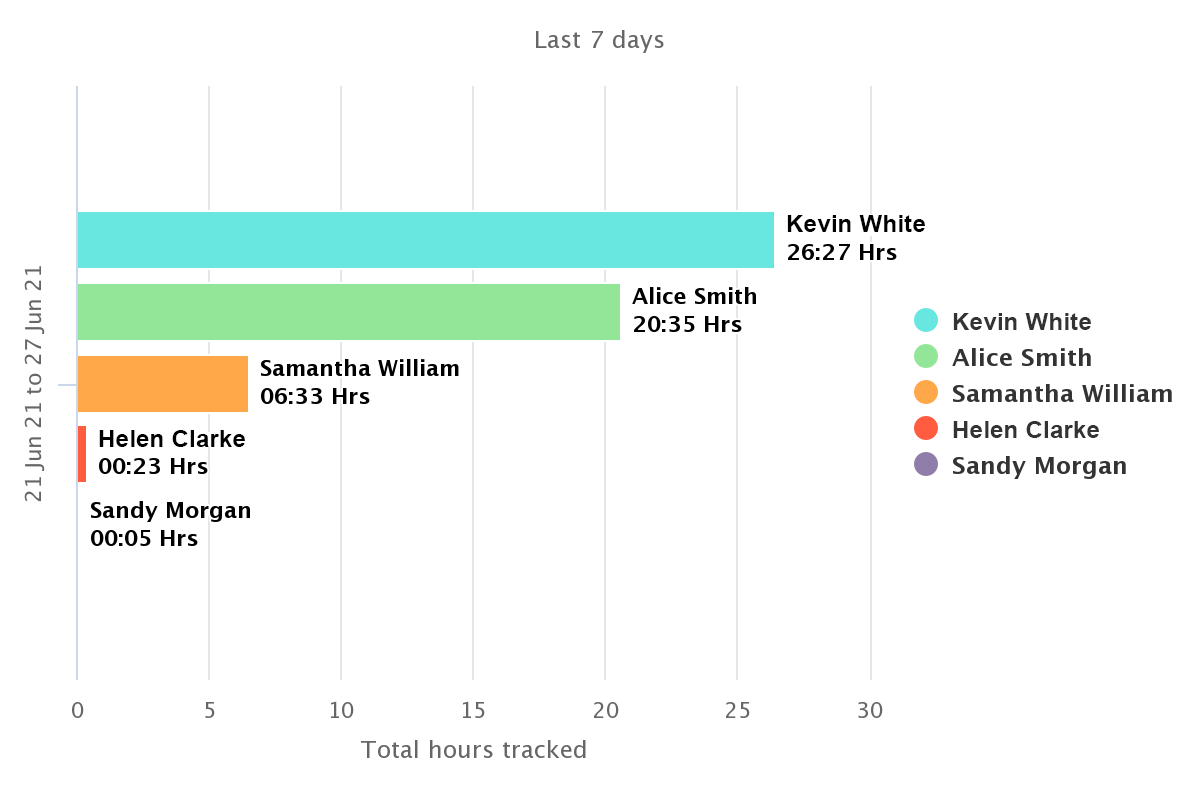 Benefits:
Address mismatched team skills accurately
Know whether you need to onboard new developers
Know whether your employees need additional training
Identify top performing employees and reward them accordingly
Review existing goals and deadlines for accurate performance evaluation
Manage your remote or work from home employees:
With the current scenario remote work, work from home or hiring globally distributed developers has become the new norm – which means there is no way you can monitor your employees in real-time. Additionally, micromanaging your employees may cause a huge impact on employee morale and develops a sense of mis-trust. Thank fully, technology has made it possible to monitor your in-house/work from home/remote staff without having to get anywhere near them.
Implementing Handdy employee monitoring and productivity software gives you a detailed report as to how your employees spend their time on any given day.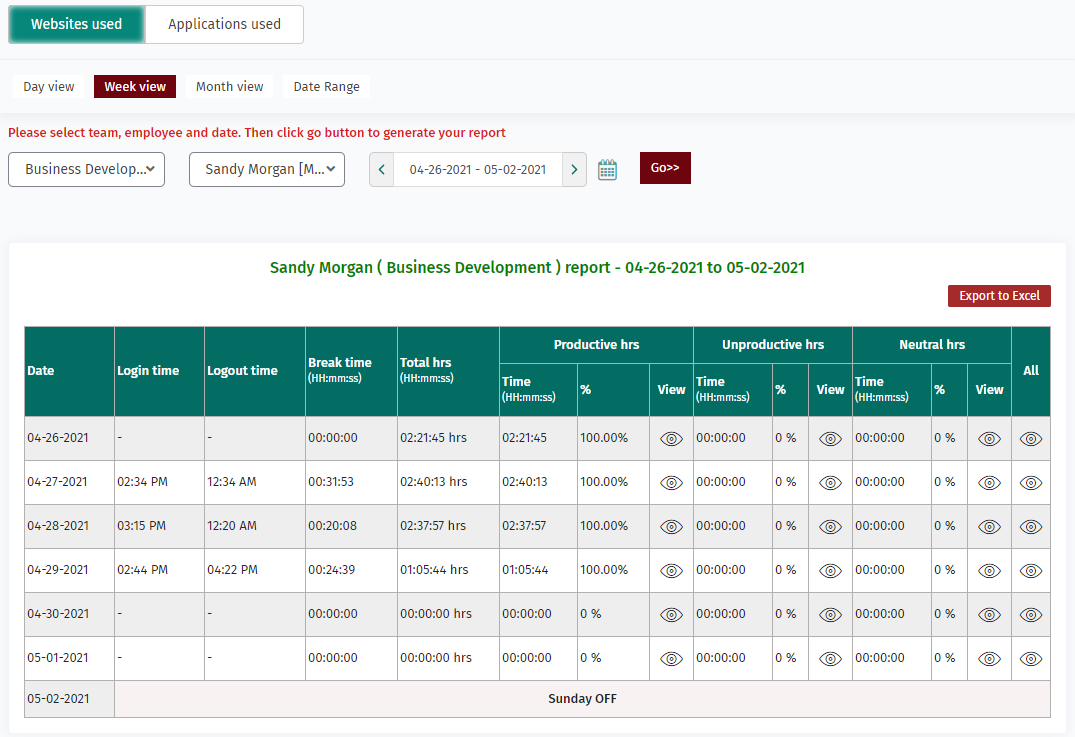 Benefits:
Analyze your employee computer activity
Find out how engaged your employees are (on any given day)
Monitor in-house staff, work from home and remote employees – all in one place
Eliminate micro-management and improve employee morale
Perform an in-depth analysis of employee productive/un-productive/neutral hours
Improve your overall team performance and ensure timely delivery of projects
Overcome common project management challenges:
Project management is all about staying on top of different elements of a project such as managing teams, meeting deadlines, client communication, time line, project outcome and so on. Especially with software project management, some challenges are more common than the others such as lack of communication, lack of accountability and setting unrealistic deadline. Implementing Handdy employee monitoring and productivity software gives you an analytical overview of the top categories (projects) work on. This will help you identify time consuming categories and re-assign tasks accordingly.
Assigning tasks to individual employees builds a culture of accountability as they are responsible for the outcome.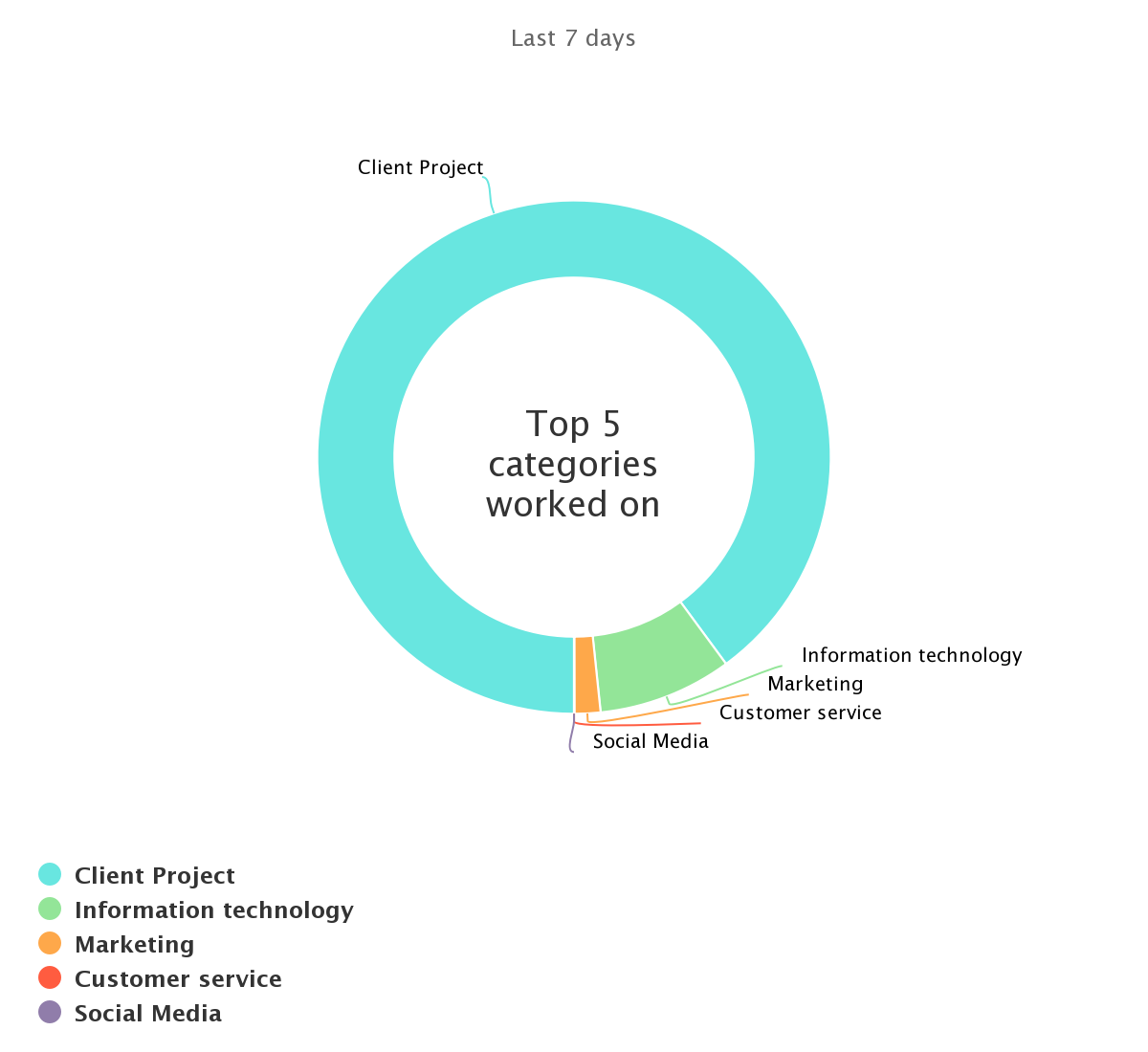 Benefits:
Identify time consuming categories (projects)
Allocate resource to critical projects efficiently
Know when to hire full-time or part-time resource as backup
Prepare well in advance to meet client demands
More form Handdy employee monitoring software?
Timesheet reports:Handdy gives you detailed timesheet reports crucial for accurate client reporting, client billing and internal payroll processing. Here you get to see:
Employee information
Tasks performed (with duration)
Active hours
Projects worked on with client name
Total work time and off-time
Get time sheet reports for day/week/month
Who is working today in Handdy is built to help managers understand who is available on a particular day. This feature is extremely useful when you want to allocate any urgent task to your developers based in availability and skillset.
Task tracker: Find out who is online, offline, logged in to the timer or logged out of the timer during work hours.
Ensure quality assurance and security:
Data breach is a biggest threat to business. More often than not, data breaches are caused by insiders not being fully aware of the company policies and guidelines in place. We can list a few common causes of security threats:
Visiting malicious websites
Clicking on suspicious links
Passing information to unauthorized officials
Passing confidential information inside or outside the office
Lack of accountability on crucial client information
Lack of accountability on company assets
Though we have tools to detect security threats, employees should take conscious efforts to prevent them from happening. When employees know they are being monitored, they'll be very careful when visiting a un-productive website or sending email to outsiders.
Handdy employee monitoring and productivity software gives you time stamped screen shot images that helps you detect security threats early on and take action before it causes any serious damage.
Benefits:
Find out how company assets are being used
Learn if emails are being sent to un-authorized persons
Find out if employees visit malicious websites
Prevent suspicious activity and take action immediately
Develop a value-based culture and drive performance:
With the rise in competition and rapid technological advancement, working in the field of IT and software can be challenging. Nevertheless, to ensure successful product delivery, acquire/retain clients and to establish quality control - the top-level management teams have to keep a close watch on employees without micromanaging them.
Handdy makes it possible. Click start your free demo to find out how Handdy employee monitoring and productivity software can help you solve typical challenges faced by software development industry.
Make use of
Your FREE Demo
Stop wasting time on trying out different employee monitoring tools. Find out how you can utilize Handdy to manage your employees.
Book Your Free Demo Here
We're here to help
Would you like a free personalised demo to learn how you can use Handdy at your company?
Book your free demo now